The Global PeaceTech Hub team in collaboration with The GovLab developed the "PeaceTech Topic Map: A Research Base for an Emerging Field" with the aim of getting a comprehensive overview of past practices and challenges. Using The Gov Lab R-Search methodology, the team conducted a rapid scan of leading scholarship and real-world applications to establish a comprehensive landscape of the PeaceTech space. The analysis had three layers. First, the team looked at the types of technologies and enabling conditions influencing PeaceTech need and deployment, categorizing them between physical tools, such as 3D printing, IoT sensors, and drones, and digital and virtual tools, such as online platforms, algorithms, and virtual reality to demonstrate the implementation of PeaceTech. Second, the team organized a non-exhaustive list of applications into six categories—prediction, narratives, infrastructure damage, human rights violations and abuses, migration flows, and humanitarian response. Third, the team considered the risks associated with PeaceTech and found that insufficient and fragmented regulation and governance understanding of technologies in the PeaceTech space created policy blindspots and allowed for negative uses of technology to oppress and target individuals.
Visualisation of PeaceTech Topic Map available on Miro.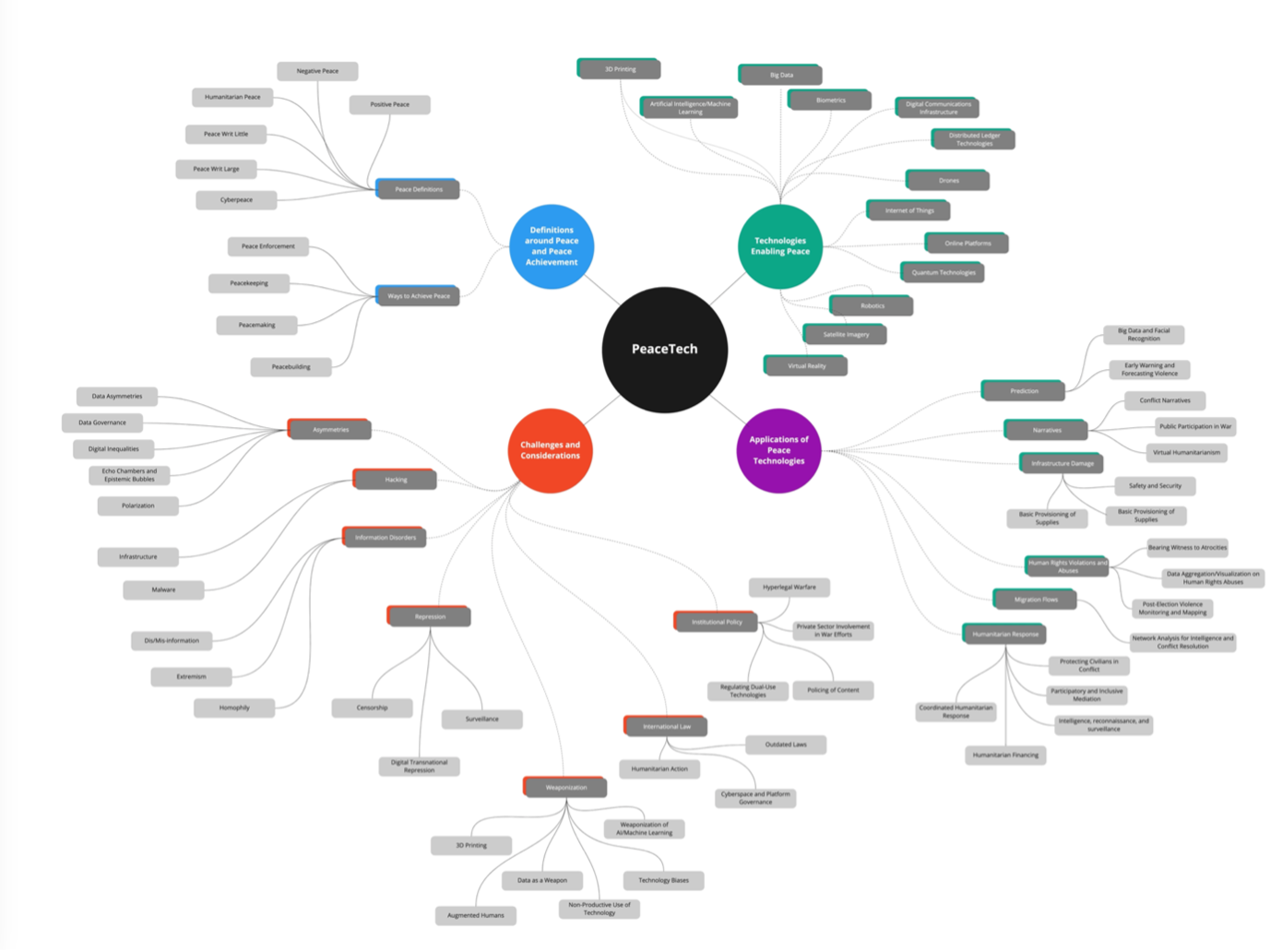 With this topic map in mind, the GPTH has been able to identify pressing avenues for research and appreciate a more thorough understanding of how these three aspects of PeaceTech are intertwined. The topic map will also help guide portfolio design, future research, and fundraising directions for the GPT and other practitioners in the field. The topic map can be explored here, and the related publication is available at this link.